Re: BRIGHTON GIGS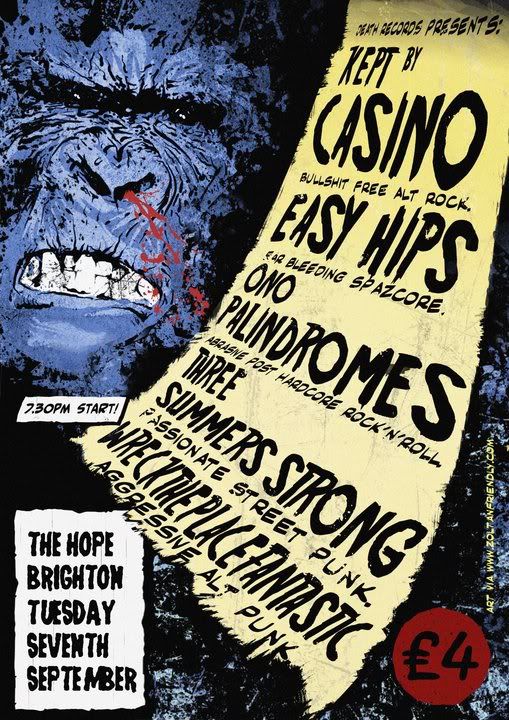 Death Records delivers a new night of alternative rock music promising to pierce your ear drums and destroy your soul...
Kept By Casino: Angry, very angry Brighton rock. Kicking aside bullshit to deliver a muscular live show inspired by the likes of These Arms Are Snakes and Future of the Left.
http://keptbycasino.bandcamp.com/
...
Easy Hips: Ear bleeding spazzcore, kinda like of Some Girls on steriods producing an intense unhinged live show not to be missed! Mental.
http://www.myspace.com/easyhips
Ono Palindromes: Take the dirty grunge stylings of Jesus Lizard, add the raw energy of the Bronx and mix in the rock edge of QOTSA. There's your cake... eat it.
http://www.myspace.com/onopalindromes
Three Summer Strong: Combining earnest raw vocals with a punk rock edge. TSS are reminiscent of the early day efforts from the likes of Gaslight Anthem and Against Me! In other words... when those bands were good. Hot damn.
http://www.myspace.com/threesummersstronguk
Wrecktheplacefantastic: Taking their name from the Dillinger 4 song, these guys take the visceral fury of McClusky and fuse it with the punchy punk rock of Hot Water Music. 4 real.
http://www.myspace.com/wrecktheplaceuk
DOORS 7.30PM AND A BARGAIN £4 ENTRY!!!
"Same Old Shit..."