Topic: Noah Francis Johnson reveals his version of My Way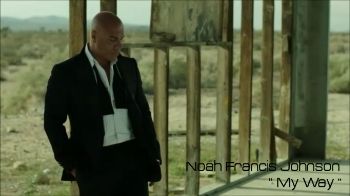 Noah Francis Johnson pays tribute to one of music's most loved icon by performing the track " My Way " This performance stays loyal to the original while enhancing it by a thought provoking arrangement and a passionate and unique delivery by Noah.
Click here to view: https://www.youtube.com/watch?v=oiTuK-f4FNE
"Tiger bay where I was born taught me how to be a man I boxed.
My mother's love of Bob Dylan and Sam Cooke taught me to be lyrical.
My father taught me my stagecraft and gave me my voice.
Sang and joked my way through working mans clubs, from a young age sharing dressing rooms seeing things what I shouldn't have.
Danced to be a champion & grew up.
Sang along side many, Slayer,Lenny Kravitz. Gil Scott Heron.
But it all came to a point, now I am awake.
Performing in the moment is my most authentic and honest account of myself."
Website: http://www.noahfrancisjohnson.com/
YouTube: http://www.youtube.comoahFrancisLT
Twitter: http://twitter.comoahfrancis