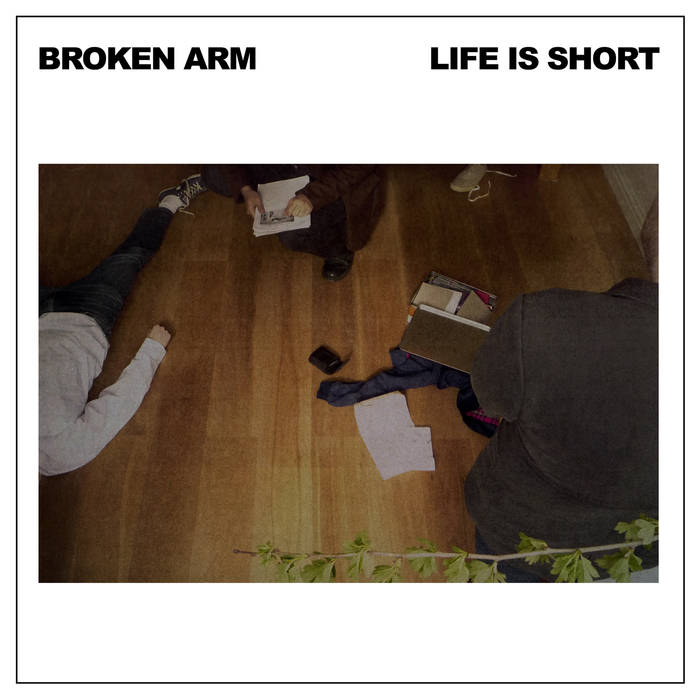 BROKEN ARM's debut LP opens well, a trembling guitar drone flecked with twittering feedback, followed by the whole band slamming into the opening riff. Sounds like people who know their amps. They're dealing in chunky, repetitive noise-rock, clean-sung vocals adding bluesy inflections over the top in opener "Hard to live." Its sullen back-and-forth riff and stripped-down songwriting work as a palate cleanser for the more kinetic "Under the table", which introduces a baggy garage-rock shuffle. The track closes out with a slower, dragging gait, vocalist Nick repeating "under the table, keep looking, it's where you'll always, find me" while guitarist Guy lets fly with some wahwah'd soloing.

"Guilty conscience" and "Waiting for a call" have some of the strongest hooks on the record, each one structured with a lyrical payoff, the former working methodically up to an effects-shimmering chorus, the latter opening jauntily before slithering into a moody refrain. Between them lies "Double talk", which is a welcome step on the gas pedal, albeit not that interesting in terms of riffs.

Their press sheet refers to their "grooving noise rock, filth and disillusionment" and says that their sound "is frequently compared to that of various US hardcore punk bands, primarily from the rosters of AMRep, Touch and Go and SST records." I'm not seeing the "filth". If BROKEN ARM were a car you could probably just about write "Clean me" on the side with your finger, but there are bands out there capable of "rallying in the rainy Welsh countryside, rolled the car in a muddy field, driver and co-pilot both shat themselves." Similarly, by namechecking the record labels above the writer is referencing music that connotes aggression, an edge of danger: a sensation that BROKEN ARM sound a bit too comfortable to reach for. When they break out the "grooving" part of the equation, like in "Under the table," they could be THE CHARLATANS trying out a PISSED JEANS impression.

The opening seconds on Side B raise my hackles for all the wrong reasons, bringing to mind zones of '90s groovy Brit-rock that I've tried very hard to forget. Thankfully BROKEN ARM steer "Newsreader" away from those horrible KULA SHAKER visions fairly rapidly, hacking the sound into something more primitive. "Distractions" is a slow-drag noise-rock number, in which any amount of free-form shredding can't gussy up a fairly boring bassline. "Someone else" plays a similar role to the A-side's "Double talk," upping the energy levels briefly. One oddity - by the time the title track comes round the singer's choice of melody is becoming strangely repetitive (an obsession with the minor third above the keynote.)

This mid-paced, obnoxiously repetitive seam of noise rock takes a lot of charisma to bring to life. Despite having a powerful instrumental sound and some great guitar textures, BROKEN ARM's songwriting and energy levels feel lacking, leaving us with a solid, workmanlike LP that fades quite quickly from the memory.


Share this:
Tweet