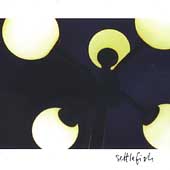 Dance a While, Upset
Year Released: 2003
Format: CD
Label:
Deep Elm
Reviewed by
Tom Sloan
on Jun 13, 2007
This cd has been sitting in my pile for weeks now, and has become a bit of an enigma in reviewing terms. Never before have I struggled to comprehend, on a basic level whether I like a record or not. The bad news is that Iím still struggling to either dismiss or recommend it, a few weeks after receiving it. Most tangible and easy to understand, is why I have reservations towards this record. First off, this band falls into the trap of sounding unmistakadly Deep Elm, when paradoxically their sound is potentially that of innovation and originality. The vocals are sung in that ever-so aggravatingly over American (sorry, Canadian) accent of RedAnimalWarBentonFallsCrossMyHeart and the guitar tones make this feel so familiar and generic, masking in fact that thereís far more going on.

Track 1 is a real swelling, powerful, brooding gem of a track, with driving rhythms and buzzing bass line that starts the album in auspicious style. The screamed final line of the chorus is a fitting, strong climax, before the music sits back into the calm stuff, and theyíve obviously been listening to R.A.Wís Black Phantom Crusades because the horns at the end are a great addition to the sound. Things are looking good at this point, and are enforced by another driving chaotic start to the next song, giving way to a fantastic little mathy-rock style verse part. Unfortunately, the song, like so many others on the record, wanders off, and whilst the lack of coherent song-structures is always refreshing, there is almost the sense that this album suffers from a lack of distinction from one part of one song, to another part of another song later on.

Alas, most of the other songs on the cd donít have the memorable beginnings of the first two tracks. You really have to be in the mood to sit there and wait for songs to happen on this album, and admittedly, when they do, itís the interesting, angular ,jazzy and restrained noise that ultimately makes for a rewarding experience provided you have the patience. Take track 6, Measures Can Divide for example; a quite dull beginning in all honesty evolves towards more inventive, tight as hell, quite arty parts before cascading into louder, poppier guitars and hooks making you feel glad you stuck with it. Iím actually changing my mind as I writeÖtoday Iím really enjoying this album.

Who knows, this album could grow and grow, or it could hardly ever be given a spun again after Iíve written this. For the Deep Elm fan this could seem fresh and original with elements of fugazi, small brown bike and more recent label mates such as red animal war all thrown into the mixer. However, if you are partial to avoid Deep Elm like the plague, this could be easily dismissed as another faux-Ďemoí effort from another pretentious indie rock band. Personally, I donít fall into either of those categories, making this to me, a piece of fundamentally flawed potential brilliance, posing the unanswerable question of What Could Have Been.
Share this:
Tweet