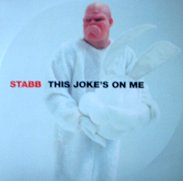 Despite the fact they can't even spell "stab," Stabb are pretty good. This is the Swedish, female fronted, bands' debut single, and it brings to mind such other luminaries as the only other Swedish, female fronted band I know, Kelly 8.

But when I'm not being lazy, Stabb sound like a whole load of other bands. In reality, this is pretty straight-forward rock music with lyrics I can only describe as "atmospheric." The opening track, 'This Joke's on Me,' is so Hole-ish that Courtney Love could have sung it, it's also probably the best song on offer.

The second and third tracks are completely different. Stabb shun mainstream influences for the sake of sounding more like Sonic Youth, especially on third track 'How Do You Do,' parts of which could have been taken straight from 'Experimental Jet Set…'

'This Joke's On Me' is pretty good all round. Stabb won't set the world alight with their originality, but this is still a good single.
Share this:
Tweet