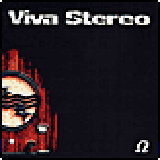 Pretty standard indie here, Viva Stereo mix up Happy Mondays dance floor beat downs with the odd bit of Shoe-Gazer niceness which can at times sound quite nice but there isnít really enough there to hold my attention too much.

There song writing is pretty good and there is definitely some substance behind their style, I found it quite hard getting past some of the tepid Ocean Colour Scene vocal work outs at times, which is a pity as there were some pretty good ideas on here.

Track three was probably my favourite, it reminded me a lot of The Rapture live when they did the more house songs.
Share this:
Tweet