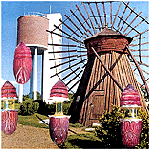 This is the motherfucking shit!!!! I remember seeing the monster that is Circle supporting Acid Mothers Temple at the social ages ago. I really didn't know how to take their crazy kraut influenced rock in at the time but right now I'm loving every minute of the bastard.

Circle kick off this lavishly packaged double lp with a growing rocker, the repetitive riffs wash over you like a golden shower from Bjork. The wall of rock builds and builds until your in heavy metal heaven and this ridiculous Finnish Halford impersonator starts going off on one. It's a lot easier going than most of the current Kraut influenced rock coming from around the world at the moment and it's definitely much more rocking (although that Nishinihon record was pretty fucking rocking too).

I cant imagine living without this wonderful record, go and buy it right now from the wonderful people who put it out. Go on - don't be shy.
Share this:
Tweet