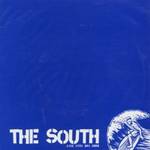 Hehe, I am on the Florida DIY hardcore trip tonight! And I still have another one to go after this. I guess that region has always had it's fair share of bands and folks who I find myself on the same wavelength as, but just lately it seems to be the case even more so than ever.

The South are the perpetrators of one of the best LP's I have heard in the past 12 months, the "Chomp Chomp Chomp" 12" was gushed about liberally on this very website, and this new 4 song 7" is similarily of the highest quality. Whilst I pansied about with the word emo when describing their LP, this 7" hits harder and more destructively, bringing to mind that old Florida emo violence sound - bands like Palatka or Eurich, yet with a different quality to their sound. The basslines on this record are much more complex and wandering than those frenetic bands from the past, and this really adds something to the South, making them unique. They also break out some moodier breakdown moments, and one song on here fills it's entire side of the 7"! Wouldn't catch End of the Century Party doing something as self indulgent as that eh! Oh, and just like the LP there are more great samples on this one.

Sadly this record does skip in a few places, even when utilising the free penny coin that comes with some of the records and is recommended to be placed on your turntable arm. The skipping disrupts the flow but doesn't make the record unlistenable. The South transcends badly pressed records!
Share this:
Tweet