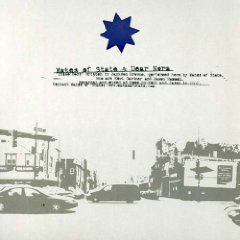 I must say I have enjoyed quite a few of the recent Polyvinyl releases. The Owen CD was rather fine, the Kyle Fischer LP was decent, the new Saturday Looks Good to Me album is fantastic, and here is an excellent split between the way ace Mates of State and some folks called Dear Nora.

Mates of State were one of the best bands I saw last year, and here they do a fairly mellowed out keyboard & melody focused song called "These Days", which apparently was not written by the band themselves. Boy+Girl sing on it, though Boy is more prominent on here. It is very nice and smooth, just what you would expect from Mates of State, who basically define the word NICE when it comes to indie-pop. They even played "Leave Me At The Tree" at the show when I asked if they could. Which blew my mind. This song is rather fine.

Dear Nora plays a Bob Dylan song caled "Girl from the North Country", and it has one girl playing guitar and singing, although I think she cheated as there is backing vocals and definitely 2 guitars on this recording. Apparently it was done in a kitchen. Anyways, this is all good.

Rock solid split single. Wahey.
Share this:
Tweet