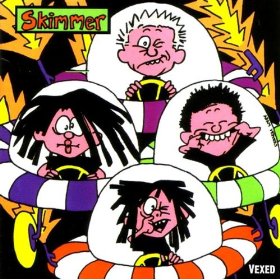 I came home for Christmas today, and everything is right with the world. Beers, ready chilled in the garage, proper food, a big old warm bed, 3 victories in a row for the mighty Barnet FC and the latest issue of Fracture ready to read. The advert for Subjugation in there tells me that the Spy vs Spy 10" is out. They also have a Jejune album in. For I am truly happy and content for the first time since the weekend I went to London and Braid.

And when you are happy, play pop punk. And drink those tiny little bottles of beer. Copiously. 16 tracks all told on this Skimmer album, and whilst they may seemingly blend into one big pile of songs after a while, there is no question that it is a great listen too.

They blast things off with the rockin' "My Own Little World", which sticks together the poppiest of pop punk with this great opening guitar part that is reminiscent of departed pop metal titans, Whatever (not to be confused with Whatever...). And this is what Skimmer do. They pop you, they rock you. All against the background of pacy punk rock. The songs are often quickfire, but certainly aren't dumb. You get these groovy high pitched vocals delivering lyrics that I love on the more personal "Postage", and "Insignificant Me" a song about being an obscure British punk band. They even have a song about going to play in Harlow (the exquisitly named "Harlow, Marlow, Gary Barlow") and having no-one turn up to see them, something which I can vouch for having been to the Square my share of times. Well, if I had known who this lot were at the time, then I promise that I would have been there. And jumped about a bit.

There's also a first (for me) on here - a vinyl with a bonus track! At the end of song #15, there is this huge expanse of smooth plastic that the needle takes an age to shift itself across. But when it eventually does, you realise it was worth the wait. Still, you lazy old so and so, you could have moved it on manually.

Anyone dosed up on the Snuffy Smiles brilliance of Navel, perhaps blended with a dash of Blew, and a smidgeon of Travis Cut and the Jellys can't help but throw themselves at the feet of a band like Skimmer. I love how you can buy astonishingly good albums for £6. Get to it.
Share this:
Tweet