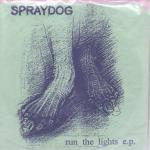 It's the second in the previously untitled series!

Andy's Random 7" (purchased: 18/1/98)

A thorough analysis of the packaging ensured that it probably wasn't a 'non Collective' band, and the band name meant there was a vague possibility it was punk. But it wasn't.

In fact, it's 4 slices of some gloriously tuneful, poppin' indie rock with dual boygirl vocals. It's no Rainer Maria, being much more indie and pop, yet it is splendidly harmonious, and although you might find it occasionally a little sickly in the jangly stakes, they do have some neat and uplifting guitar playing too. Lets see, I'd say Velocity Girl is a fair comparison, although I only have 2 of their early albums, and for a sum total of 4 days.

Songs featuring are: "Some sort of corporate attack", which is relatively pacy and immpecably catchy. Title track "Run the lights" is particularly sugary sweet and indie, but it is also undeniably cute sounding. "Us vs. Mascis" sneaks the drifting vocals behind these big walls of indie rocking guitars, and is a little less substantial, and they round things off with "Jimmy" which is more of the same. Brief, yet cool.

A perfect advert for the random 7". 4 good songs, one happy customer. You like 2 minute indiepop songs, you like this single. Yay!
Share this:
Tweet