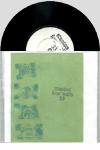 Yay, random record! I don't know a thing about this band.

Kicking off with "Brain Seems Happy Enough To Be Sleeping" - cool title - well, what have we here. Sounds like a bored indie rock band that have a singer who's gotten fed up with singing, and prefers to just sing in one note all the time. And too loud, with the guitars too low down in the mix, which is a damn shame, because they sound like they have some emo influences from them guitars, which is fine by me.

"The phrenology bust" is more melodic, and jangly. More indie music is what we have on this one. You think. Then right near the end they play the guitars a lot louder. They have a good sense of dynamics this band. Reminiscent of Foil's slower efforts.

On to "Summerlast", oh aye, these guys have gotst to have heard Sunny Day Real Estate at some point. Emo vocals too! Pleading and higher pitched. Slow, yet the plodding guitars carry a fair bit of weight to them. Bugger, it's finished. Hmm, too short, but sounded great while it lasted.

The singer sounds very American at times, but I guess they are English - the address is for London anyway. So get in with your different sounding Brit indie band, here is one they made earlier.
Share this:
Tweet