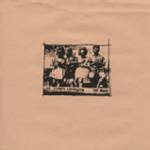 split
Year Released: 2004
Format: 7"
Label:
Alone
Reviewed by
Andy Malcolm
on Jun 13, 2007
This arrived before I headed out this morning, and I had just enough time to stick it on a tape. Given the hour or so of driving I have done today I estimate that I listened to it about 6 times back to back. And I could quite happily have done a bunch more driving just to ensure I got to listen to it even more.

This is the first new Pine material in a while (luckily there is a bunch more to come soon such as the new LP), and they are as awesome as ever. I am a total dork for this band, but they never fail to impress. The two songs on here make me want to curl up into a ball and hide, they are magnificent. The first song is "Rainclouds" and it is fairly simple, repeating over and over the same basic structure, but the heady mix of Roger's vocals, the beautiful wanderings of the bassline and the fuzzy wall of sound that they mix the guitar and drums into is captivating. It ends all of a sudden but it's the kind of track where they could have just gone on doing the same little repetitions over and over for 10 minutes and I wouldn't get bored. "Down Below" is faster, but uses the same elements. I guess a new listener to the Pine who doesn't know what to expect may have trouble at first getting into them as the music is so buried amidst the fuzz / distortion (whatever it is! I suck at music) that it might be difficult to get a handle on the buried melodies, but having listened to this band so much I guess I am just used to that and know what to listen for. Either that or my record player is a mess. Anyways, two as exceptional as ever songs, I can't wait to see how the band are live.

The Saddest Landscape have mastered the art of mid 90's emo, and how to nail that in the 5 minutes or so that they can commit to a 7 inch. I often wonder if this form of music is simply much more suited to the one off burst of powerful emotion that the 7" format is capable of allowing. Everything is contained there and then, it explodes, it's gone. Energy expended. "Weighing Out the Desirables" is as good a slice of crybaby emo as you will hear. Utterly desperate screamed vocals mixed against the grooving and driving melodic guitars is what you get, a heady blend of styles you'll hear from bands such as Breakwater, Candyland Car Crash, Yaphet Kotto and so forth... The song structure is nothing new, but I am always gripped by this sort of thing. It descends into a typically gorgeous twinkle part in the middle with the distant screams layered over the top, before building up into the end of the world finale. If you have any classic mid 90's emo record then you know the score. But I can't knock it, this is great stuff.

So overall you have a stunning split 7", which will easily be a future benchmark for this genre. Ace.
Share this:
Tweet