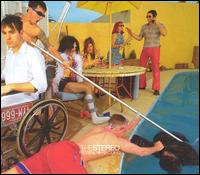 Genres are funny things, aren't they? Pop, ska, emo, skate, straight edge..... it's all very confusing. Even though they are fascist assholes, Guttermouth put it right in one of their songs saying "I wanna go punk, but there's way too many rules, pardon me, Mr Punker, I'm looking for some insight in the core that's right for me". Although there isn't a lot of punk about the Stereo, they make things easier by embracing ROCK.

After far too many line-up changes, the recorded version of the Stereo is now officially the brainchild of Jamie Woolford, ex-Animal Chin. It's his project, and he pretty much finds whoever of his buddies are available to record drums and bass, and tour with him.

As it turns out, this record is half Animal Chin (Woolford and drummer BJ Woullet) and half Pollen (bassist Chris Serafini and guitarist Kevin Scanlon), plus cameo's from some other people, who I am not familiar with. Interestingly, you can really hear the Pollen-esque sound in some of the tunes.

Rewind & Record is one of those albums that embraces lots of different moods and sounds. "You Better Believe It" is a really cool, upbeat, jumpy rock song. "Too Little, Too Late" is kinda trippy, mellow and electronic keyboard sounding. There's Billy Joel sounding songs (Don't Say Uncle), there's odd, goofy and cool sounding songs (Dear Fans of the Stereo) and there's still plenty of the trademark STEREO sounding ones (Pay No Attention, Have I Paid My Debt to MPLS?).

So, there's plenty for everyone here. And it's all pretty solid. But I guess it's a little inconsistent. And there is a slight lack of real killer tunes. "Pay No Attention" and "You Better Believe It" do hit the mark, and the rest of it is good, but not really great.

It certainly doesn't disappoint, though. A worthy addition to any rock fans collection of rock records. And we have it on good authority that we can expect gigantic things from these guys in the future.
Share this:
Tweet