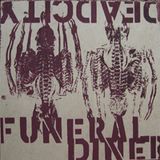 Funeral Diner seems to have new records out all the time, this is the 4th split 12" they have appeared on. It seems to suit them though, as I'd say that this and their previous 2 splits are some of their finest material. I was actually quite surprised at how good this sounds as I was a little disappointed with some of the recent things I had heard, and hadn't really enjoyed their live show when they were over (though I was sick as a dog that weekend). These 4 songs though are dynamite. It opens with the ragged "Let Me Get A Few Practice Stabs" which spirals around amidst a bucketful of chaotic guitars before rushing headlong into a sublime melodic breakdown. The vocals have really improved hugely from the rather generic screamo style they had down previously, now going for a more wrenched / crybaby scream which is much more to my preference than the piercing stuff. "Wearing Thin" follows with a twinkly intro and off-kilter drumming that recalls Breakwater. It builds up gradually, getting louder and more excitable before exploding into the screams and destruction. "City of Webs" continues the battering after a lovely intro, it reminds me of Bob Tilton in places, especially the brief spoken part. The emo-groove on this song is spot on as is the breakdown and subsequent build up. Quite possibly the best song I have heard from this lot. They end up on a Nexus 6 cover, which I think is off the split 12" that Funeral Diner did with them. Sounds familiar anyway – it is messy and fast, similar to what bands like the Saddest Landscape are doing. Overall, the recording on this split is less than perfect that adds to the rough quality of the bands flailings. I'd say that overall this is Funeral Diner's most emo stuff yet, and probably my favourite for that matter. Great! Definitely. I should listen to this more.

Dead City are on the other side and are a new band to me, thems a hardcore band, although they do throw in keyboards for a bit of variation (and not in a screamo fashion, more to create an atmosphere). This is OK, but not really the kind of thing I am going to throw on very often. The vocals are gruff, opener "1600" and the instrumental "Eulogy" are long and drawn out affairs, a bit too slow paced for me. "Truth" is a bit more in my ballpark, a raw dash of crunchy hardcore with throaty vocals and a bit more pace, not sure about the guitar solo mind you. "Failure" is the final track, it has a nice opening with synthesised strings and whatnot before getting noisier, it's much more of a screamy emo styled song that makes me think of Portrait actually.

This is an uber DIY release (put out in part by Old Glory! Blast from the past!), it comes with some literature on education that you may want wander through whilst the record spins. May not be up everyone's alley (it is a bit dry for me, personally) but nice to see labels/bands wanting to make their release something other than just a few tunes.
Share this:
Tweet