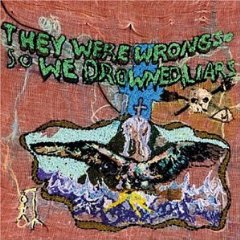 They Were Wrong, So We Drowned
Year Released: 2004
Format: LP
Label:
Mute Records
Reviewed by
Ben Haynes
on Jun 13, 2007
Recall, if you will, the wave of NYC indie funk-punk bands invading our shores in 2002. Sometimes exhilarating, fresh and intuitive (Liars, !!!), sometimes boring, pointless and unnecessary (Radio 4, Hot Hot Heat), this 'scene' is thankfully dead in the water, a cliche. Realising that putting out another record in a similar style would be a horrendous creative error, Liars have created a disgustingly ugly avant-indie concept album about witches.

While 'They Threw Us In A Trench...' was a crazy mixed-bag of noisy disco-punk, calling on Gang Of Four and Minutemen, 'They Were Wrong...' is a grotesque semi-ambient rotating plastic disk of GLOOM. One can easily note the influence of seminal German industrialists Einstuerzende Neubauten, who even 'provided' (using the term loosely) the packaging for Liars' pre-album EP "There's Always Room On The Broom", almost certainly one of the most bizarre choices of single so far this year.

Each track slides by and the listener can only sit in abject dispair, wondering what on earth is going on. This is Sonic Youth circa EVOL gone badly badly wrong. 'We Fenced Eachother's Houses With Bones Of Our Own' is horrifically painful, featuring cacophonous groans and shrieking of the lyric "WE'RE DOOMED, WE'RE DOOMED". This is a freakishly unpleasant and unsettling record, yet a fascinating and compelling listen. Only time will tell if 'They Were Wrong...' is a one-off self-indulgent 'side' album, or whether the future of Liars lies in the avant-garde.
Share this:
Tweet