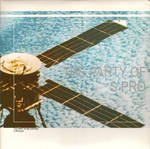 That the Party of Helicopters have put out the best (and certainly one of the most orginal) records so far this year is the reason I am a tiny bit disappointed with their contribution to this. The album is dramatic - action packed and thrilling. The two songs here? A little lacking and uninspired when placed a long side. Their style lurks just outside of any other band you'll hear right now. Quirky indie rock with big rocking old metal riffs? People have said Iron Maiden, others have said Motorhead. Make of that what you will. But when the POH execute the complex indie rock in conjunction with a great fucking cool riff / crazy guitar solo, it sounds great. And gives them their distinctive sound that you won't hear anywhere else, especially now Harriet the Spy have split up. Expertly titled "Like God (I Kill Indiscriminately)" is a grower, took a bit to hook me in but it dazzles by the sheer amount going on, and only slightly lacklustre production denies it from great status. "Tomb Consumer" drags a little too much for me, and sounds very demo-ish. Again they have those distinctive metal parts standing out. Needs to have been faster. Though still good. And the way the POH singer seemingly harmonises with himself (POH never give anyone credit for backing vocals, what else could it be?) always impresses me. In summary: If you are not down with this band, you are seriously uncool and not keeping up. People will laugh at you at parties.

I have no idea who S Process are, and frankly this song on their side gives me no desire to find out anything more about them. Starts of promisingly, cool vocals, but then it becomes this bass heavy rumble mixed up with a bit of electronic noise. Very simplistic, very unappealing.

Worth it for the POH stuff.
Share this:
Tweet