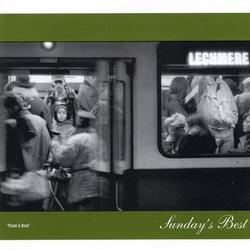 Andy Malcom (Collective Tyrant): This sounds like The Police! Nadia:Noooooo waayyyyyy! Nadra (Nadia's sister):Hey he sounds like Sting! Nadia: Really? Alex Deller(Collective StoneRocker): Doesn't the 1st song by Sunday's Best sound like Every little thing she does is magic by The Police? Or is it just me? Nadia:No, it's not just you. Actually Sting wrote the song.

So when 3 different people in 3 different locations and kids elsewhere too are saying 'The Hardest Part' is ripping off The Police. Believe them! But hey this is definitely one great record. Showcasing the band's ability to not just produce catchy rythms with delicious indie hooks and fine pop twists, but also with lines that touch. Check out Pearl Harbour Day for instance. (Featured on the Holiday Matinee Vol 2. comp.) or Bruised Blue (Titled as 'Turn them a deaf ear' on the Che Fest Comp.) Rather Christie Front Drive-ish and I have absolutely no objections to that as SB pull it off so well and remarkably. They mellow it down with jangly strums on 'White, Picket Fences' and 'Indian Summer'. And for Braid/Sunfactor/Texas Is The Reason kids, poppy-emo-rocking tunes 'Saccharine' and 'Winter Owned' will capture their hearts.

Such fine deliverance from such a fine band. Not to be missed.
Share this:
Tweet