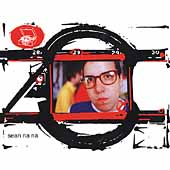 Return Of The Unicorn
Year Released: 2000
Format: CD
Label:
Troubleman
Reviewed by
Andy Malcolm
on Jun 13, 2007
Doesn't take much to entice me to pick up the latest Troubleman release, and when the latest Troubleman release (at time of purchase) was a Sean Na Na CDEP, well, it's a done deal. Seany put out a great record earlier this year, and 6 more tracks are greatly appreciated.

Except they don't quite live up to that LP. It's still solid stuff, but feel like they are almost like the songs that didn't make that album, and maybe that's the case. Opener, "Give Me A B-Side" would have fitted on the album with ease, persistent yet mellow indie rock played out with piano, harmonised backing "La-La's" and Sean's familiar, warm vocals. He sounds like if the guy in Belle & Sebastien wasn't such a pansy. Alas, the track is over after 2 minutes and 22 seconds. You feel like you are just getting into the song and it's suddenly over. What the? Why did it end? Beats me, you'd better ask Sean. "Return of the Unicorn" bounces a long with acoustic guitar, though you can hardly tell it's not plugged in at times. And it also ends quickly. After all, it's 6 songs in 18 minutes. Maybe he was given that as a quota.

The best stuff is the super catchy "Beh-beh-beh-beh-better" with it's keyboards and thumpin' drum beat getting me rocking in my chair, but again it is TWO minutes long. ARGH! But the most awesome track of all is "Tumor Party" which is fucking awesome. And probably merits the purchase of this EP on it's own if you've money to spare. The Busy Signals has mixed some fizzing beats over the top of Sean and some keyboards and it's most definitely wow, in a "Joan of Arc at their best" type way. This song is rainy weather and you're stuck in doors condensed into 3 minutes of digitality. Gotta love it.

Well, it's a dandy little EP, but unless you are a die-hard Na Na fan you are probably better off with the full length, which is just gorgeous. You betcha. Mildly disappointing, but only because I had such high expectations.
Share this:
Tweet