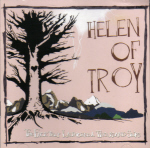 Helen of Troy were really good, but I thought they had split up ages ago. We have been blessed though with 5 more songs of their take on highly charged emo.

This cd opens with "Vanishing Hour" that feels like a morphing of Yaphet Kotto and the Vida Blue with frenetic grooving rhythms and desperate vocals spilled out, the main singer implores and the guys in the background scream hoarsely. Raaa! It's excellent. Splintering chaos everywhere, with the drums smashed to smithereens and everything. Lovely. It flows straight into "6am Shadows" which exhibits the other side of the band - the kind of freaked out space jam that they had always been prone to throwing into their music. I like it. Though I don't think I could be quite so avant garde as to listen to a band that did this all the bloody time. So thanks to HoT for falling down and thrashing your guitar into oblivion too, that makes it more fun for me. Swiftly following that is the initially reckless "Abaddon" which careens along at a swift rate before all going calm and spaced out. Man. It goes all hippy for a short while before it comes back in at the end with some kind of mad organ hopped up on goofballs and emo dudes all crying and rolling on the floor in a haze of whatever. I also loved "Flight Machine" which blasts around ferociously, tying me up in knots and everything. The final track goes back to being all slapped out of its brain and watching the end sequence of 2001. Ok. This track really fucking sucks, and is about 2 hours long. If I was able to delete stuff off a CD, this would be a prime target.

All in all, apart from the noise wank track: seriously good.
Share this:
Tweet