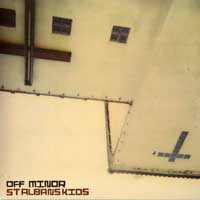 Jeez, this thing just zips by before you really get to figure what's happened. Off Minor spark things off with their familiar brand of emotive hardcore that's all spangles and jangles, combining mean-spirited horseplay and a softly-softly approach bringing to mind some immaculately-considered good-cop-bad-cop routine that sneaks between rabbit punches to the kidneys and Django fucking Reinhardt. After an original ditty they follow up with an Articles of Faith song that's reasonably done but, predictably, doesn't dent the original.

St Albans Kids hail from down under and play ragged screamo-hardcore that kicks considerably more arse than Silverchair. It's turbulent stuff, skilfully played with a heck of a lot going on, meaning that while you're waa waa waaing about how '99 it all sounds they're slicing your face to ribbons and offering living proof that there's still life in the screamo corpse yet. Their second song is also a cover (Huggy Bear's "Dissthentic Penetration"), and while it's fairly reassuring to know that these kids have decent taste in music, they don't do a great song too much justice. Shame.

Two decent bands, two great tunes and a couple of covers you could probably live without. Not bad odds by any stretch, the only obvious complaint being that since their own tunes are so top-hole it would've been nice to hear more of the buggers...
Share this:
Tweet