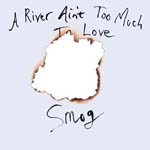 A River Ain't Too Much To Love
Year Released: 2005
Format: CD
Label:
Drag City
Reviewed by
Chris Bress
on Jun 13, 2007
When you're in the mood you just can't beat a good Smog album. The new full-length, "A river ain't too much to love", is what some people will say "a return to form". It's bleaker, more aggressive and with beautifully sombre guitar picking throughout. Bill Callahan's voice is, of course, no different on this one. His deep croon flitters over the gentle tunes in such a way that makes you think of the BFG, or a warmer take on the chap from the Tindersticks or even Leonard Cohen.

A lot of the playing on this new cd is pretty repetitive. The music is literally the backing for the great lyrics delivered in his chocolate liqueur soaked voice. There's this fantastic bit in "The Well", where the music is caught in a fir of repetition. It's rocking back and forth, with a feel of Deliverance's anal fury, and with repetition you get aggression, and when Callahan jeer's "fuck all of y'all" in his deep dry voice you're literally ready to fight.

This is an awesome record, and if you haven't heard much Smog and like stuff like Leo Kottke or Jim O'Rourke then just get this because it's one of his best.
Share this:
Tweet