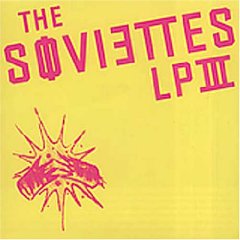 Fat Wreck Chords is one of those labels that by the time I got into punk had probably, in most people's eyes, started to go down the pan, but it's not a label I had ever much contact with, so I was a bit dubious about this LP when I heard people talking about it. Then my good friend and pop punk dork Matt J took me into his bed room and told me I had to listen to this record.

The second I had heard one verse I knew this whole LP is gonna be pop perfection, and that's exactly what it is. This is their third LP now, and their first on Fat. The Soviettes have got that retro appeal that makes you wanna pogo like a mad man and the tunes to have you still singing their songs when the needles left the record. Nothing amazingly original or groundbreaking, but the three-part harmonies between 2 girl singers and a guy singer somewhere in there too can do nothing but put a smile on your face, infact looking at the back of the record, everybody sings, I love it when bands do that. Although I do have beef with the lack of lyric sheet, whats that all about? Lack of confidence? hmnn

All in all this is great LP, and I am glad I picked it up, makes me wanna buy a suit and tap my toes or something, great retro stylings from these gals and guy.
Share this:
Tweet