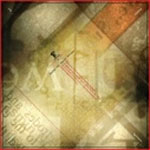 My first freebee records as a CZ reviewer and with that I grabbed the chance to get this metal overdose record. Although I'm no fan of more than two bands sharing a LP, it does its purpose if the intention is to check out some new bands. The packaging of this seems cool at glance, with some nifty folding action, but way to glossy and slick for my taste.

First band out is Ghostlimb. Now I have never heard Ghostlimb and only briefly their affiliated band, Graf Orlock, but my Metal helmet was on and my legs spread wide apart (now..don't get any smart-ass ideas here!!) as the needle hit the wax. I did not expect the in-your-face attitude of this band and it threw me off guard. Short outbursts that go blarrghhh as the vocalist punch you repeatedly in the face. They throw in a few essential mosh parts and has some more melodic elements every now and then, but most of the time they choose speed and attitude over anything else. Probably a blast to see live and makes we want to check out their Bearing and Distance album. Mission accomplished I guess.

Next up is Zann, a band I'm more familiar with and have checked in at every now and then since the demo. They have come a long way since those early days and the two songs they have here sounds more or less like songs out of the Three Years In The Desert album that came out a year or two back in time than their previous efforts. The sound is heavy and pounding like the Germans are known to produce. Robert, who looks and is such a nice dude, screams until his lungs bleed and are the strong point in this band. The lyrics are all in German, but it does not matter as i'm not able to capture a single word of what he is screaming about anyway. After Ghostlimbs opening it does not really grab my attention and the production is not as good as I remember from the three years... album either. My guess is that Zann, one of the most hardworking and passionate band in the European DIY scene, will not win over many new fans with these two songs, which is a shame as their catalog contains many great moments.

I flip the record and am ready for the next band up, Trainwreck. Now with a name like that, you just have to deliver right? So what happens, well the needle jumps off the record entirely and repeated attempts at the start and throughout the side produces a maximum of 20 seconds of music until SCRATCHSDHSJDH and needle jumps off again. Adjusting the weight did not help, so disappointed as hell, I turn on the computer and do a quick blog search for the record. My first vinyl freebee resulted in me downloading the record..shame.

Anyway, Trainwreck, consist of people from Eaves I believe. One of my bands played with Eaves some years back and as they where solid nice dudes who played ace music my expectations to this where quite high. They are up to a good start with quite a pace and catchy hooks, but as the song progress I fade out to 'wonder where my entombed records are' land. Not bad, but nothing that exiting either. The second song is more to my liking and they have slowed down and only occasionally put the pedal to the metal making the song more varied,.a lot more interesting and epic sounding. Bet they have closed at least one show with playing this song.

Perth Express did a stellar 10" on Crucificados records but failed miserably to live up to this 10" when I saw them live in Brighton a little later. The two songs here makes me feel more like I did after the live show than listening to the 10". It's metal alright, but sadly this is just boring metal and there are few things as boring as boring metal.

So there it is, would recommend this to people who want to check out some new bands and have interest in the heavier and more metallic side of HC, but personally I'm glad this was a freebee as I can spend my money on the Ghostlimb album instead.


Share this:
Tweet