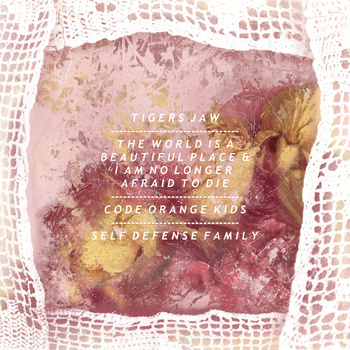 split
Year Released: 2013
Format: 7"
Label:
Topshelf Records
Reviewed by
MH
on Jul 30, 2013
I picked this up recently mainly for the Tigers Jaw and Self Defense Family tracks but it also gives me the chance to hear both Code Orange Kids and The World Is A Beautiful Place And I Am No Longer Afraid To Die for the first time.

Tigers Jaw are up first and their song is a brilliantly melodic and poppy track with their usual downbeat tones. From what I understand, they have split up but I hope this isn't the last we hear from them as this shows them on fine form. Code Orange Kids are up next and they serve up a slow and heavy number with harsh vocals and an experimental slant. Self Defense Family follow that with the outstanding "Holy Trend" which is a plodding and lumbering slow track that is dragged along by Patrick Kindlon's vocals. It's the best track on here for me and continues to display their evolving sound. TWIABPAIANLATD are a band I have been meaning to check out for a while now but hadn't quite got around to it. Their track is called "Beverly Wyatt". The slight shimmer on the guitar that features on this track is a little post rock. The vocals are fairly clean too. I am not really convinced by this track.

Decent split all round and well worth the price alone for the Tigers Jaw and Self Defense Family tracks. For me, Self Defense Family and Tigers Jaw blitz the other two on this split.


Share this:
Tweet